Draft Dodger's Cabin
Draft Dodger's Cabin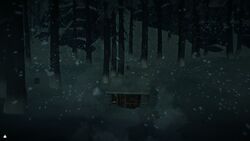 A small cabin with a bed and some loot - suitable for one night stays.
Commonly found in this cabin are some clothes, a nice and cozy bed (usually provides better warmth benefits than your Sleeping Bag and average Twin-Size bed), and the rare Hatchet. Outside of it are tons of potential spawn points for Reishi Mushrooms, 2 Rose Hip Bushes, and 2 trees containing up to 3 Old Man's Beard Lichen per tree.
Notes
Nearby is a Mountaineering Rope that will lead you to take another Mountaineering Rope. At the top of these 2 ropes lies Skeeter's Ridge.
See also